We stand 100% behind our service and our food. Guest satisfaction is central to our business model, so please let any team member know how they can serve you.


Lunch Starting at $9 or Less
Every day until 4pm.
View our lunch menus.


• Huntsville, AL
• Knoxville, TN
• Fort Myers, FL
ABOUT CONNORS STEAK & SEAFOOD

We specialize in fresh seafood and premium aged steaks, as well as gourmet salads, pastas and more! Enjoy a memorable evening with friends and family in our well-appointed dining rooms, or stop by for the lunch you and your associates deserve. Our friendly service and flavorful fare will keep you coming back for more.
2004 - Connors Steak & Seafood first opened their doors to the diners at the new Turkey Creek shopping center in Knoxville, TN. Combining a high quality menu with a comfortable atmosphere, Connors quickly became a favorite with fellow Knoxvillians. The rich, wood interiors, warm fireplaces, and "guest-obsessed" service continues to this day, and in 2011 Connors was recognized in the "Best Steak" category of the 2011 Metro Pulse Best of Knoxville publication. Connors Steak & Seafood is Knoxville, TN is AAA 3 Diamond Rated.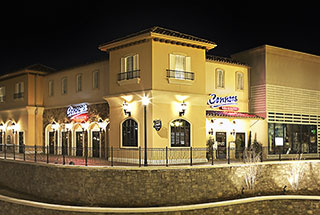 2008 - Our second location opened its doors in Huntsville, AL at the much-anticipated Bridge Street Town Centre. Connors quickly became a hit with the locals, earning numerous "Best of Huntsville" awards, including Valley Planet "Best Restaurant" (2011-2013), "Best Steak" (2011-2013), and "Best Special Occasion Restaurant" (2013), and The Taste of Huntsville "Best Entrée" (2011, 2012) and "Best Restaurant" (2012), among many others. Connors Steak & Seafood in Huntsville, AL is AAA 3 Diamond Rated.

2012 - The latest Connors Steak & Seafood is in Fort Myers, FL at the new Gulf Coast Town Center. Continuing in the footsteps of previous locations, the newest restaurant features the same warm, welcoming environment that has been a staple of the concept since its inception. Rich, wood interiors, gas lanterns, and a premium bar set a new standard in restaurant quality and comfort. With a menu featuring the best cuts of beef, fresh seafood, enormous salads, tempting pastas, and made-for-sharing desserts, Connors maintains its commitment to providing a superior dining experience to all our guests. Connors Steak & Seafood in Fort Myers, FL is AAA 3 Diamond Rated.

.